I was born in New Britain, Connecticut - a 13th generation Connecticut Yankee. I lived in Chicago for 30 years, Philadelphia for 10 years, and finally got to Wyoming in 1996.

And, yes, I was a Republican in Chicago. Ask me, "What's a community organizer?"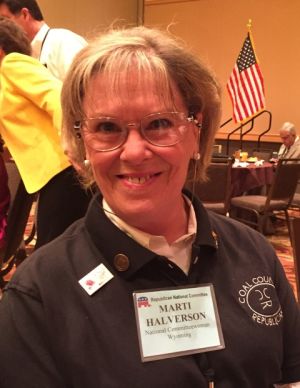 My first campaign was in 1964. My father took me by the hand and we walked Chicago neighborhoods for Barry Goldwater. That took some nerve! Decades later, I wonder if he didn't take me along for protection . . .

I have been active in grass roots politics all my life and am still the Etna/Freedom Precinct Committeewoman on the Lincoln County Republican Party Central Committee.

In April, 2016, I was re-elected to represent Wyoming on the Republican National Committee. My term expires in 2020.
I attended the Republican National Conventions, as a delegate or an alternate, in New York City (2004), St. Paul, MN (2008) and Tampa (2012) and will be in Cleveland in July.

My libertarian leanings are strong. I am a member of the Big Horn Basin Tea Party and the Jackson Hole Tea Party because I think the values of constitutionally limited government, fiscal responsibility and free markets are the best for our state and country. I support easier ballot access for minor parties in Wyoming. They have much to contribute to the conversation on issues facing Wyoming.

The American Legion Auxiliary sponsors Girls State every year, and I am pleased to serve this outstanding program as a committee member and senior counselor. I have been taking Star Valley junior girls to Girls State for 10 years.

When I became a member of the Animal Humane Association of Star Valley, I began fostering homeless dogs and cats because there was no pet shelter in the valley. As president of the association, I persuaded the Lincoln County Commissioners to donate land for a shelter, which is now built. I have four dogs and six cats - all rescues. Spay and neuter your pets!
I served as an elected trustee of the North Lincoln County Hospital District (Star Valley Medical Center) for eight years (2004-2012), the last two as chairman. I am a lifetime member of the hospital's Auxiliary.

Lincoln Self Reliance is a community service provider, based in Afton, for individuals with developmental disabilities and acquired brain injury. For the past five years I have been a member of its board of directors and president of the board since 2011.

In November, 2012 I was elected to represent Wyoming's House District 22 in the state legislature. I am running for a third term in 2016. I have received recognition and awards for my Conservative, Constitutional and Liberty voting excellence.